NOUVEAU CHEZ MOTS ET CIE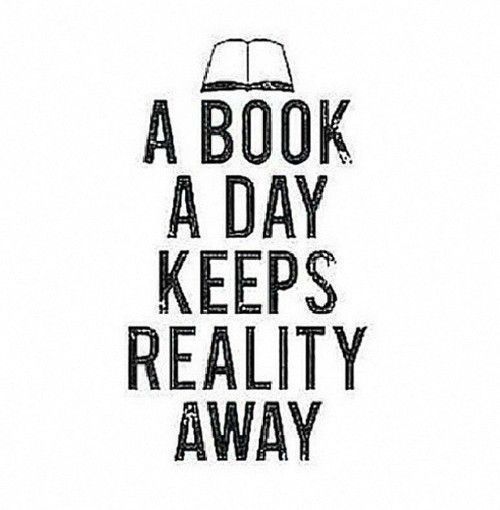 LIRE EN V.O !
Retrouvez les nouveautés en langue originale !
Voici les premières sélections:
►UNDERGROUND RAILROAD Colson Whitehead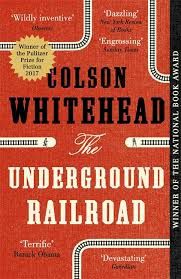 Cora is a slave on a cotton plantation in Georgia. Caesar, a slave recently arrived from Virginia, approaches Cora about a plan to flee. Reluctant at first, she eventually agrees as her situation with her master and fellow slaves worsens. They take the perilous decision to escape to the North. During their escape, they encounter a group of slavecatchers and Cora is forced to kill a teenage boy to protect herself and Caesar, eliminating any possibility of merciful treatment should she ever be recaptured. With the help of an inexperienced abolitionist, Cora and Caesar find the Underground Railroad, a subway system that runs throughout the south that transports runaways northwards. The writer brilliantly recreates the unique terrors for black people in the pre-Civil War era, from the brutal importation of Africans to the unfulfilled promises of the present day. A really compelling story.
Winner of the Pulitzer Prize for Fiction 2017
► BARBARIAN DAYS William Finnegan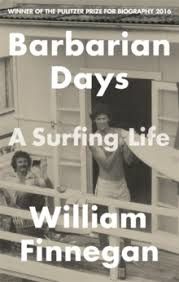 Surfing only looks like a sport. To devotees, it is something else entirely : a beautiful addiction, a mental and physical study, a passionate way of life.
A deeply rendered self-portrait of a lifelong surfer. William Finnegan first started surfing as a young boy in California and Hawaii. This book is his immersive memoir of a life spent travelling the world chasing waves through the South Pacific, Australia, Asia, Africa, Peru and beyond. Finnegan describes the edgy yet enduring brotherhood forged among the swell of the surf; and recalling his own apprenticeship to the world's most famous and challenging waves, he considers the intense relationship formed between man, board and water.
A memoir of dangerous obsession and enchantment as well as a riveting adventure story, an intellectual autobiography, and a restless, searching meditation on love, friendship and family.
Winner of the Pulitzer Prize for biography 2016
►DAYS WITHOUT END Sebastian Barry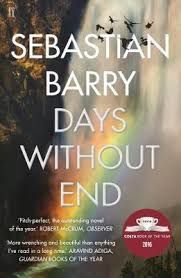 Thomas McNulty, aged barely seventeen and having fled the Great Famine in Ireland, signs up for the U.S. Army in the 1850s. With his brother in arms, John Cole, Thomas goes on to fight in the Indian Wars—against the Sioux and the Yurok—and, ultimately, the Civil War. Orphans of terrible hardships themselves, the men find these days to be vivid and alive, despite the horrors they see and are complicit in. But when a young Indian girl crosses their path, Thomas and John must decide on the best way of life for them all in the face of dangerous odds. An intensely poignant story of two men and the makeshift family they create with a young Sioux girl, Winona.
A portrait of the most fateful years in American history. A novel never to be forgotten.
►THREE DAUGHTERS OF EVE Elif Shafak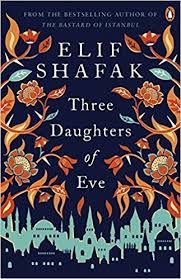 Peri, a wealthy Turkish housewife and mother, is on her way to a dinner party at a seaside mansion in Istanbul when a beggar snatches her handbag. As she wrestles to get it back, a photograph falls to the ground - an old polaroid of three young women and their university professor. A relic from a past and a love Peri had tried desperately to forget. The photograph takes Peri back to Oxford University, as nineteen year old sent abroad for the first time, to the house she shared with her two friends, Shirin and Mona, and their arguments about identity, Islam and feminism. And finally, to the scandal that tore them all apart.
A tale of faith and friendship, tradition and modernity, love and an unexpected betrayal.

► THE BALLROOM Anna Hope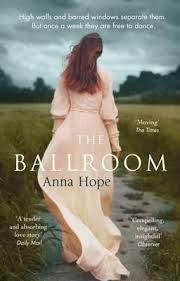 Historical background:
Early 1900s , Churchill newly appointed home secretary, ambitioned a compulsory sterilisation of the "feeble-minded". He ultimately failed but in 1913 the Mental Deficiency Act established powers to incarcerate those believed to be "feeble-minded" in asylums, where men and women were segregated, ensuring their inability to reproduce.
Ella Fay arrives at the Sharston asylum in 1911, her supposed "madness" being the breaking of a window in the textile factory where she works. In the men's wing sits John Mulligan, an Irishman suffering from depression provoked by the death of his daughter and the dissolution of his marriage. When Ella and John meet at a Friday night dance in the asylum's ballroom, their feelings for one another transcend the restraints of their surroundings in what becomes a poignant and sensitive love story. An historical novel that tells us a story of the past in order to shed light on the present.
►THE WAKE Paul Kingsnorth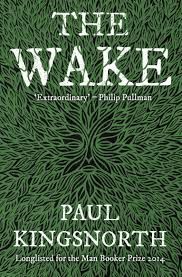 In the aftermath of the Norman Invasion of 1066, William the Conqueror was uncompromising and brutal. What is little known is that a fractured network of guerrilla fighters took up arms against the French occupiers. Buccmaster, a proud landowner, accompanied by a band of like-minded men, is determined to seek revenge on the invaders. Buccmaster becomes increasingly unhinged by the immensity of his loss, and their path forward becomes increasingly unclear. Written in what the author describes as "a shadow tongue"-a version of Old English updated so as to be understandable to a modern audience-the Wake renders the inner life of an Anglo-Saxon man with an accuracy and immediacy rare in historical fiction.
Winner of the Gordon Burn Prize 2014 and The Bookseller Industry Book of the Year Award 2015.
►THE HEART GOES LAST Margaret Atwood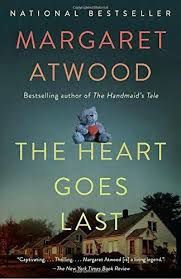 A young urban couple, have been hit by job loss and bankruptcy in the midst of a nationwide economic collapse. Forced to live in their third-hand Honda, where they are vulnerable to roving gangs, they think the gated community of Consilience may be the answer to their prayers. If they sign a life contract, they'll get a job and a lovely house . . . for six months out of the year. On alternating months, residents must leave their homes and serve as inmates in the Positron prison system. At first, this seems worth it but when a series of troubling events unfolds, Positron begins to look more like a chilling prophecy fulfilled. The Heart Goes Last is a vivid, urgent vision of development and decay, freedom and surveillance, struggle and hope--and the timeless workings of the human heart
►NEVER LET ME GO Kazuo Ishiguro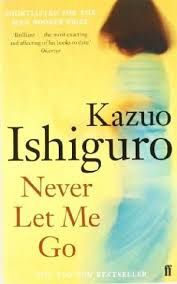 The story revolves around three students at the seemingly idyllic Hailsham Boarding School, Kathy, Ruth and Tommy, who develop a close but complicated friendship. The school places considerable emphasis on self-expression through art and, especially, on staying healthy. There are frequent, exhaustive medical check-ups. In fact, they're organ donors, cloned to be broken up piecemeal for spares. And the purpose of Hailsham is to prepare them for their future - to help install the powerful mechanisms of self-repression and denial that will keep them steady and dependable from one donation to the next. Kathy Tommy and Ruth hope that love will save them. After Hailsham, they grow from puzzled children to confused young adults waiting for the call to donate. A story of love, friendship and memory, charged throughout with a sense of the fragility of life.
A dystopian science fiction novel by 2016 Nobel Prize-winning British author Kazuo Ishiguro.
►LAROSE Louise Erdrich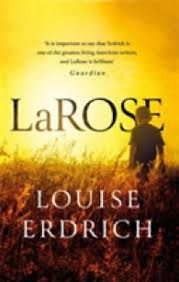 Late summer in North Dakota, 1999: Landreaux stalks a deer, he shoots with confidence but only when he staggers closer does he realise he has killed his neighbour's son Dusty, Landreaux's five-year-old son LaRose, best friend. He is horrified at what he's done, he ensconces himself in a sweat lodge and prays for guidance. And there he discovers an old way of delivering justice for the wrong he's done. The next day he and his wife Emmaline deliver LaRose to the bereaved Ravich parents. Standing on the threshold of the Ravich home, they say, 'Our son will be your son now'. The years pass and LaRose becomes the linchpin that links both families. But a man suggests that there was a cover-up the day Landreaux killed Dusty - and decides to expose this secret - threatening the fragile peace between the two families.
Breathtaking tale of a tragic accident, a demand for justice, and a profound act of atonement with ancient roots in Native American culture.
►4321. Paul Auster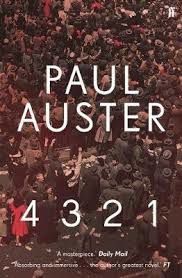 On March 3rd, 1947, Archibald Isaac Ferguson, the only child of Rose and Stanley Ferguson, is born. From that single beginning, Ferguson's life will take four simultaneous paths. Four Fergusons will go on to lead four parallel and entirely different lives. Family fortunes diverge. Loves and friendships and passions contrast. Each version of Ferguson's story rushes across the fractured terrain of mid-twentieth century America, in this sweeping story of birthright and possibility, of love and the fullness of life itself.
Inventive and dexterously constructed, an unforgettable tour de force, the crowning work of this masterful writer's extraordinary career.
__________________________________
_______________
________
Pour être informé des derniers articles, inscrivez vous :